April 8th, 2021 Transparency of Transshipment: Using Satellite Data to Reveal Meet-ups on the High Seas
They present environmental protection to stop "illegal and predatory fishing" in the Argentine Sea
(07:04:2021) The court case asks the National State to take preventive measures in order to put an end to the very serious damage caused by this predatory activity, developed for years by industrial fleets.
Buenos Aires, Apr 6 (EFE) 
A non-governmental organization said on Tuesday that it filed an appeal before the Argentine Supreme Court to order the national State to adopt the necessary measures to stop "illegal and predatory" fishing in the Argentina's exclusive economic zone in Atlantic waters.
Exclusive: U.S. urged to join South America in fighting China fishing
Mar 23, 2021 : The U.S. should consider leading a multilateral coalition with South American nations to push back against China's illegal fishing and trade practices, a U.S. intelligence agency has recommended in a document obtained by Axios.
Why it matters: China's illegal fishing industry is the largest in the world. Beijing has made distant-water fishing a geopolitical priority, viewing private Chinese fishing fleets as a way to extend state power far beyond its coasts.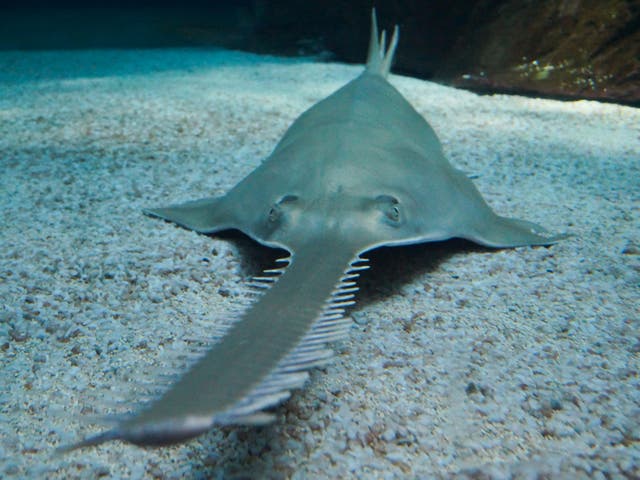 Teeth are easily caught on fishing nets, and saws are routinely sold for novelty, medicine and as spurs for cockfighting
The exotic sawfish is rapidly disappearing from the world's oceans and is at risk of extinction, marine scientists have warned. 
An alarming new study examining sawfish records has found that these shark-like rays have been lost in half of the world's coastal waters and are on course to be wiped out, predominantly due to overfishing.
Like a thick scarf, the Galápagos Marine Reserve encircles its namesake islands, protecting 133,000 square kilometers (51,400 square miles) of nutrient-rich ocean that supports nearly 3,000 marine species. But the…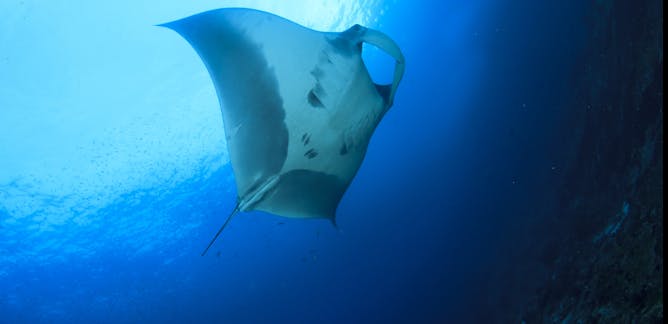 A high seas treaty could help rebuild populations – but time is running out.
Oceanic sharks and rays live so far from land that the average person is unlikely to ever see them. But these species, which live in the vast open ocean, are also among the most revered, and include the great white shark and the giant manta ray. For millennia, their remoteness has allowed these species to largely avoid humans. But since the early 1950s, industrial-scale fishing fleets have been able to reach distant waters and gradually spread to exploit the entire global ocean.